We are a group of health and social care professionals with experience in the mental health sector, covering community and inpatient settings. Our management team comes with extensive experience in clinical and operational management. We desire to work closely with all stakeholder to ensure quality service delivery to service users.
Our Source of Inspiration
In the last 10 years, we have seen the effects of changes on how public organisations are being funded. Access24 Health and Medical Services Ltd would like to work with all stakeholders to ensure that, service user needs are met using current evidence based care and support options. We value the feedback that we receive from all members of the care sector and the community at large. We pay particular attention to the feedback that comes from individuals who use our services. We are forever-a learning and growing organisation, with the capacity to use the feedback that we receive to continuously improve and refine our services.
Vision
We envision a time where we lead the way in partnering and transforming healthcare services, to have a healthier tomorrow.
Mission
To be one of the best health and social care organisations that offers innovative, sustainable, quality driven and efficient services to our partners and service users
Our Values
Our CARE values are based on the triangle of care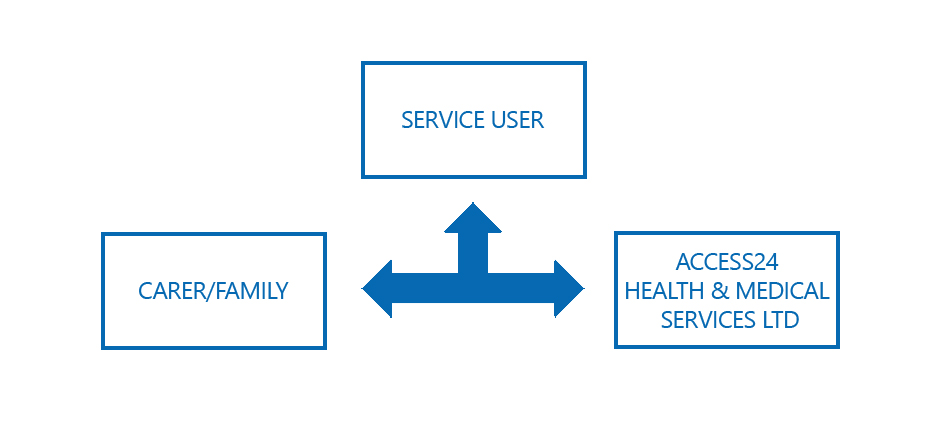 Compassionate
We understand and feel for the people who use our services and we show empathy to help them move on to the next stage of their recovery journey
Accountability
We are obligated to provide best and genuine care to everyone who use any of our services in a very responsible way to meet the needs of all our stakeholders
Respect
Everyone who comes in contact with Access24 Health and Medical Services Ltd, should expect to be treated with dignity and respect.
Excellence
All our day to day activities are geared towards service excellence and quality service delivery to meet the needs of service users.
Objectives
To provide the best possible support services to mental health service users in collaboration with the service users themselves, their carers and all stakeholders
To promote first class health and wellbeing service for our partners by recruiting and/or supplying qualified and experienced staff who share the same vision and values as ours
To offer short-term health and social care solutions to service users and partner organisations
To help our partner organisation to allocate or re-allocate scarce resources to efficiently meet their organisational needs.